Welcome to Mad About Swing
Swing dance classes in Plymouth led by Duncan and Louise: bringing the rhythms and vibe of the 1930s & 1940s swing era into the 21st Century!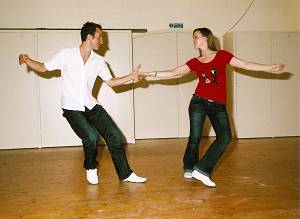 Weekly lessons in both Lindy Hop and Balboa
Learn to dance in a fun and relaxed atmosphere. We offer weekly classes in the centre of Plymouth and our level 1 classes are always suitable for complete beginners, so you can literally turn up any week!
Start any week
No partner required
No need to book in advance
Free parking
Door price £6 (students £4) or £8 (students £6) for 2 or more classes on the same evening; or buy a discount card for substantial savings
23rd September: Class Cancelled
Due to illness, the class on 23rd September has been cancelled.
Classes continue as normal from 30th September.
Every Wednesday
Lindy Hop levels 1, 2 & 3/4
Next class

Today, Wednesday 2nd December 2015
We look forward to seeing you on the dance floor soon!